Changing the Channel: Responding to the LA Times re: LA River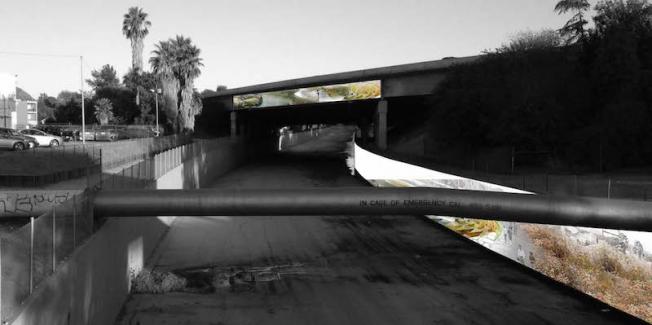 The LA Times ran an Op/Ed on September 20 in support of the LARRC and Gehry Partners masterplan for the LA River. While the re-design of a well-adapted drylands city can use all the creative collaborators it can get, the Times is off in its estimation of three things: the role of daydreamers, water, and panache in great city-making.
For the first time since LA was drained, re-engineered, and paved in the early 20th century, communities are collaborating in the creative and technical reinvention of our water systems. Thousands of Angelenos are walking, biking, kayaking, planning, designing, cleaning, planting, singing, writing, and advocating for the River. This is urban 'daydreaming' at its most powerful.
Inspired by Lewis MacAdams and FoLAR over a decade ago, the City's Bureau of Engineering—with a mandate from City Council, funding from LADWP, and engagement with some of the finest engineering and design firms in town—worked for years to secure US Army Corps of Engineers approval for the unthinkable: remaking the river to engage people and wildlife.
The value and momentum of this participatory, organic process is to be diminished at LA River Revitalization Corporation's (LARCC), the River's, and the City's, peril.
As for the role of water in the River's revitalization: Bravo to the Times for "long maintaining" that a river project should "change the city's relationship with its water."  To put a finer point on that: one, the revitalization effort has already changed the city's relationship to water; and two, the River is only one small piece of building local water resilience.
The River's revitalization is of huge civic import—for increased access, pride-of-place, habitat restoration, enhanced property values, and a visible re-valuation of water's centrality to our collective existence. As for hydrology, the LARRC proposal is not the first to look at it; the City's 2007 LA River Master Plan looks closely at the fluid mechanics of flood control and limited infiltration. However, the LARRC proposal is the first to position the River as a significant water reclamation opportunity. It is not, and highlighting aquifer recharge as a distinguishing feature (or opportunistic branding) of the LARRC proposal does not make it so. 
The River cannot succeed as part of a resilient local water supply system without a much broader approach to stormwater capture (and conservation, and recycling) across the LA basin. Capturing stormwater flows and directing them to appropriate aquifer recharge sites, reducing the burden of flooding on the River while augmenting local supplies in areas not prone to liquefaction or contamination spread, needs to happen off-river, distributed across the 865-square-mile basin. The River's relevance to groundwater recharge should be considered and planned for (and sold to the public and funders) only relative to the degree of permeability we introduce basin-wide.
While not as glamorous as River revitalization, great work on stormwater capture is under way by LA County Flood Control, LA DWP, Bureau of Sanitation, our own Divining LA initiative, and a host of non-profits and university teams, including TreePeople, River Project, Heal the Bay, Surfrider Foundation, and many others. This work focuses less on generating 'master plans' that tell people what to do, and promotes tools, prototypes, frameworks, policy recommendations, and outreach and engagement programs that empower people how to work in dry lands. While architectural master plans threaten to squelch multiple voices, planning tools and demonstration projects support multiplicity and durability: diverse teams engaging strategically in shaping their city's destiny.
What does a sponge-like city with a seasonal wash (sometimes known as a River) running through it look like? What new landscapes, architectures and urbanisms will arise, on the River and off, when we treat every drop of rainwater, greywater, and wastewater as supply? How will the River and the city's surfaces perform together in times of plenty and times of scarcity?
These are design questions with a multitude of answers, and no better lab than LA's creative culture to respond to them.  
Which leads me to the last point—the role of panache. The Times claims a little superstar panache "couldn't hurt the fundraising effort…..and need not undermine the activist vision and community input" to date.  At the LARRC and Gehry Partners presentation I attended in August, I saw plenty of evidence to the contrary.  A federal agency representative spoke to the team's troubling lack of community input, saying she thought it could jeopardize federal support.  The LARRC team appealed for local support based on the "urgency" of moving into the next phases of the project. For many in the room, designing the adaptation of dry cities in a changing climate has been both an urgent and a long-term commitment. The team's emphasis on 'urgency' only begged the question: where ya been? 
With these questions and others hovering—who's paying for this? By whose mandate is the work commissioned? How were metrics and priorities of data established? Why can't photos be taken or tweets be sent?—it was hard to see salvation in design panache. Early stage or not, there was little on display. 
The team's thoughtful study of existing stormwater plans and layers of physical and demographic data suggested a complex model underway. A model of the River's natural and manmade systems and the behavior of the lands and hydrology around it would be of value.  Many would welcome a three-dimensional, digital, publically accessible river model as a tool for generating hydrologic precision, a degree of design cohesion, and culturally and environmentally specific proposals along the river. The result might be science-derived guidelines accessed and interpreted by multiple communities and design teams in realizing a river and a city vision that works, one that celebrates rather than attempts to homogenize multiple local visions along a 51-mile spine.  But my inquiry was corrected; that was not the goal—a master plan was.
Strangely, Gehry projects in Bilbao (urban revitalization by singular destination building, which happens to sit near water) and Seattle (a rain-drenched city) were cited as qualifications for community trust. Projects from Portland and the Netherlands, also rain-saturated and emerald green, dotted the boards as case studies of how to design for variable water supply in drylands. Complementing the LARRC team's background research were any number of LA projects by other teams from around the Basin: NorthEast Trees, Trust for Public Land, and other firms and organizations, pinned up as….inspiration?  Case studies?  It wasn't clear.  
So on the one hand, we were being asked to accept a master plan, with all the connotations of boldness and erasure it contains; and on the other, we were given an array of under-confident glimpses of possible future directions—from wet cities, trophy buildings, and other practitioners already doing good work in the basin. In either case, the risk, it seemed, was that this brand of panache equalled placelessness, or at least a discomfort, a lack of intimate engagement, with this particular place.  The extent to which the project compels will require less arbitrary "urgency" and more time, more patience, more listening. (Fewer entreaties for potential collaborators to 
"grow up," and less questioning the integrity of skeptics and critics
, might help as well).
Ultimately, however, responsibility for a collaborative process lies with LARRC and, implicitly, the Mayor's office. An effective team manager doesn't hire a star pitcher to show up just before the playoffs. An ecology of seasoned players doing good work needs to acknowledged, valued, and leveraged. As the River moves into this next, high-stakes phase, LARRC won't require star panache. It will require a deep bench and shrewd management running a disciplined program of coordinated efforts. 
There is room for heavy hitters without alienating the rest of the team; the challenge is to design and manage a public program that engages and integrates them. First, let's leverage our undervalued assets: all the 'daydreamers' who have been working with urgency, determination, and yes, our own form of panache.
Hadley Arnold
Executive Director, Arid Lands Institute