Connect the Dots | A program of Divining LA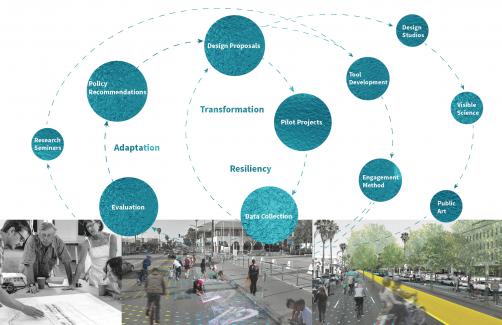 Connect the Dots has launched! Connect the Dots is a series of a public art and environmental science workshops that bring sound science, design excellence, and forward-thinking policy to the streets of Los Angeles.
ALI graduate Aja Bulla-Richards conceived of Connect the Dots as the culmination of her one-year Master's of Science in Architecture thesis research. After immersing herself in the geopsatial data at the heart of ALI's research agenda—how to capture maximum stormwater for groundwater recharge for a climate-adapted future in drylands cities—Aja saw opportunities to bring that research to broader audiences. As a designer with an architecture, landscape architecture, and public art background, Aja continually challenged herself: "How can I make this complex technical data accessible to neighborhoods across Los Angeles?  This research is essential for our future; how can we make it speak clearly to every Los Angelena, regardless of age, language or education level?  And how can we give communities tools for engaging with the data and speaking back to scientists and designers? The visual arts can serve as a bridge."
Climate models for LA and drylands like it suggest longer drought periods, less snowmelt to import from remote sources, and the possibility of more intensive rain events.  When it rains, what should we do with it?  We need to bank it. The data contained in the geospatial model developed by ALI's research teams gives high-precision guidance to every neighborhood on where stormwater can, should, and should not be captured and infiltrated into the groundwater table. The data is precise down to 30 square meters, or the size of people's front yards. 
Aja's approach is to take site-specific Hazel data and apply its pixels to the public surface of a neighborhood at real scale, asking community members to "connect some dots" along the way.  The first task—Reveal—is to ask neighbors to consider what the dots show us about the earth beneath our feet, the natural systems obscured by a century of pavement.  Aja's dots (laid out in chalk paint by participants and dedicated volunteers) are like an x-ray of the layers beneath our city.  Some dots mean "good soil for aquifer recharge."  What's an aquifer?  What's recharge?  Some dots mean "contaminants present; divert stormwater elsewhere."  What's a contaminant?  What can we do about it? 
The second task—Reimagine—is to ask, what would we have to do to the city's surface if we wanted to reconnect the natural systems below with the urban systems above?  Neighbors use a physical model of the earth's layers—alternately known as the Hazel Table or the the Water Table—to test percolation, infiltration, and recharge rates. If the city's surface were strategically perforated according to Hazel's patterns, what would happen down below?  What would be the impact up on top?
The third and final task—Realize—is to draw at full scale the built environment that might take root in a more porous city. What trees might draw toxins out of the soil?  What might provide shade without disrupting bike paths?  If water had to be diverted from one area to another, what kind of planting bed, or play area, or food production might absorb runoff best? How would that work with sidewalks?  Bicyclists?  Parking?  Future plans for light rail and/or dedicated bus lines?  The pleasure of the neighborhood?  Urban agriculture? Bees, pets, wildlife?  Foot traffic to my business or the value of my property?
Several dozen friends, neighbors, and volunteers joined us for our first event, Connect the Dots | Pacoima, on Sunday, August 2nd.  Children, grandparents, design students, and curious nieghbors joined in for a hot afternoon of play and dialog with paint, chalk, dirt, water, sweat, and imagination.  The final question of the day from our San Fernando Gardens Housing participants:  "When will you be back so we can keep doing this?"  Plans are in the works.
Our second series of workshops scales up signficantly.  Connect the Dots | Van Nuys will unfold over 2015-2016 in partnership with Pacoima Beautiful and LA County Bicycle Coalition.  With a focus on Van Nuys Boulevard in Council District 6, we are delighted to be among the projects selected for Mayor Garcetti's Great Streets Initiative.  Again, Aja Bulla-Richards will serve as the very capable creative lead, with a great team that includes public artists and advocates Tamarind Rosetti and Anne Trumble; Hyeran Lee of LA County Bicycle Coalition; Max Podemski, Planning Director at Pacoima Beautiful; Quirino De La Cuesta of the Van Nuys Neighborhood Council; and Hadley and Peter Arnold of the Arid Lands Institute.  Planning and preparation over the course of Fall 2015 will lead to a series of free, outdoor public workshops (El Niño notwithstanding) at Van Nuys Civic Center in January/February 2016; citizen-science bicyclists gathering data on stormwater runoff and bike routes around the LA basin; and a set of drawings, data, and reports submitted to the city by an ALI community design studio in the spring of 2016.
ALI works on a number of fronts.  With our partners on our Latrobe Prize Research Team—Perkins+Will; Arup; and City of LA Bureau of Engineering—we are deepening and broadening Hazel's capabilities as a decision-making tool for neighborhood-scale stormwater capture.  With our student researchers, we are investigating the design and policy implications of the research, from zoning and building code recommendations to architectural and landscape design proposals.  We work to bring all of it to public benefit, and our students are leaders in that effort alongside our professional partners.
Among our goals:
We want every neighborhood in Los Angeles to see its streets as great streets: designed to anticipate a changing climate, a growing population, and a low-carbon economy.  We want every neighbor to recognize and participate in water's role in sustaining life—the local life of economy, habitat, and culture.  We see good science and sound policy as necessary to making that vision a reality; we see art and design as essential to it, too.  
Connect the Dots is a program of Divining LA.  Connect the Dots with us.