Atlas Underway: 5,000 years of Climate-Adapted Green Infrastructures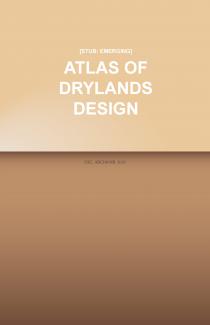 A long-term project of the Arid Lands Institute took an important step forward over the 2019-2020 school year. Joined by eleven Advanced Design Research students in USC's Master of Landscape Architecture + Urbanism program, we built out a stub—the first few entries—in an emerging Atlas of Drylands Design.
The work documents and analyzes an initial sample of 5,000 years of water systems that have shaped landscapes, economies, public spaces, and power structures in drylands globally, and could inform climate mitigation and adaptation design strategies today. 
Working within a shared methodological framework, each USC MLA+U student researcher investigated two infrastructure systems—ancient, traditional, vernacular, or informal—and built a prototype Atlas entry for each. Sifting through systems from every continent, ranging  from imperial to domestic in scale, students modelled each selected infrastructure as a coupled system of natural and manmade elements. 
Beyond the physcial mechanics, students exposed and analyzed the social constructs in which each system operated. The systems and their less visble social governance and operating rules continually challenged students to ask: who benefited? With what spatial, economic, social, and environmental consequences? Each investigation posed interpretive questions for potential climate mitigation and adaptation applications today: How might selected ancient systems be mined or adapted to inform contemporary green infrastructure design? 
Preview a selection of work by USC MLA+U students Lulu Ai-Ju Liu, Clara Yoshihara, Julian Yuliang Jiang, Yihe Wang , Shuwei Liu, Runhao Zhu, Joy Jiayu Liang, Yashoda Godhani, Xialu Song, Sneha Ravani, and Cissy Jing Wu in the attached PDF.
ALI's goal is to continue to develop a digital atlas, working with students from all over the world in a virtual Dry Lab. Students will have the opportunity to contribute entries to a comprehensive resource that is both documentary and critical: a repository of physical systems and governance strategies for building water security and environmental justice in the face of climate change. 
Students from architecture, landscape architecture, and urban design are invited to join mentored teams, working to produce design research that has value to students, professionals, and members of the public seeking an expanded range of adapation possibilities. While design-centered and design-led, Dry Lab teams will be open to students from the sciences and humanities, with special interest in students from geospatial sciences, media arts/data visualization, archeology and anthropology, heritage conservation, sustainable development, and public policy.  
Dry Lab is a multi-year initiative of the Arid Lands Institute with partner and participating universities. To find out more, drop us a line: info@aridlands.org