A Sense of Place in the Arts District, ALI@LACI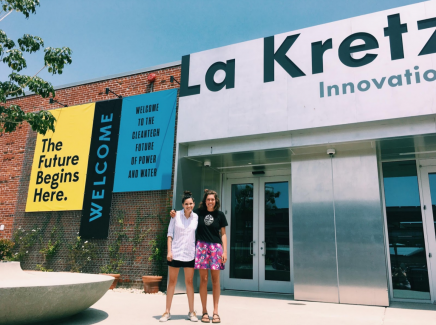 Author: Elizabeth Plascencia, Summer Research Fellow
--
This summer ALI is soaking up the sun and soil in the Arts District. We successfully transplanted from seedling to sprout at the Los Angeles Cleantech Incubator (LACI) in May. Nurtured for seven years at Woodbury University, ALI's transition into independence welcomes the opportunity to engage with community leaders, stakeholders, and designers who value the nexus between water resilience, policy, and our built environment in Los Angeles.
ALI has welcomed two interns, Elizabeth Plascencia and Kathryn Jacaruso, to help us tend to our most pressing needs this summer. From communications and marketing to a robust GIS tool, our interns are helping till the soil and irrigate ALI. (We're loving this metaphor, by the way).
Elizabeth [Liz] Plascencia has joined us as a research fellow assisting Research Director, Peter Arnold with data interpretation and management of the Hazel tool. She is a sustainability-focused, first-generation alumna of Dickinson College. As a Posse Los Angeles and NSF-STEP scholar majoring in the Earth Sciences with a concentration in Environmental Geology, Liz fostered a deep interest in climate change communication, outreach, and education. So, naturally she is also assisting with ALI's communications and media outreach outlets. Liz is overjoyed to be back in LA and thankful to have organically connected with Hadley and the great work of ALI.
Kathryn Jacaruso hails from Colorado, where she is a Studio Art major at Colorado College. After hearing about ALI through a State of the Rockies Project this winter, she got in touch and joined the team. With a background in environmental science and design, she is enjoying the opportunity to learn about the natural and built environment of LA, a new area for her. For these few summer months, Kat is working with ALI on communication development, and learning about water infrastructure in the arid west.
Our space at LACI offers an inspiring environment to "do good for the good's sake." Individuals are buzzing from every corner of this place with the next gadget to conserve energy, reduce emissions, or 3D print a solar panel.
The Arts District is vibrant. It evokes a sense of curiosity and wonder as you walk past an old, dilapidated building juxtaposed with a hip coffee nook. A barren wall is a canvas to all here. A blank slab of concrete today is a mural tomorrow. A mishmash of soul, social justice, and activism meet at the beauty that is street art. This area is walkable and bikes racks are readily available at many local establishments. Vendors open up their doors for all to come sit and stay for a while. The people are eclectic - fashion designers, models, entrepreneurs, pro-skaters, activists, coffee connoisseurs; you name it, they are here. We are here.
ALI has developed a strong sense of place in the Arts District. Come visit us and connect with our interns, enjoy a fresh cold brew from up the street or a bowl of ramen in Little Tokyo.