Book Ends: Working with Norman Millar, 2000-2016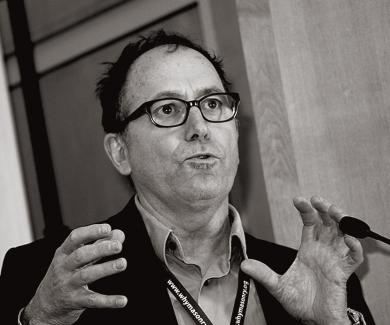 In 2000, we returned to Los Angeles at the tail end of a Graham Foundation grant spent criss-crossing the west, photographing water infrastructures, ancient and modern. Our friend, classmate, and colleague Vic Liptak invited us to exhibit the photographs at the school where she was now teaching. It was a place we had never heard of—Woodbury University, in the northeast corner of the San Fernando Valley. She said there was a tiny wedge-shaped gallery and, more importantly, a fantastic young architecture program being built. A guy named Norman Millar was in charge, doing great things, and we should come check it out.
We worked hard on printing the photos, preparing the text, and mounting the show. On the evening it opened, a grand total of three people showed up: Vic Liptak, Paulette Singley, and Norman Millar.  Norman, a tall guy with huge eyes, close cropped hair, glasses, and an ever-present moleskin sketchbook, seemed rattled that turn-out was so low. We didn't care—deadlines are always good for moving work forward and we were grateful for the opportunity.  Let's walk through the work, one of us suggested. And we did. And the conversation lasted for sixteen years.
Norman was already an accomplished mid-career architect, passionate educator and tactical urbanist by that point. We knew he had already made his mark on studios at USC, public-impact programs at SCI-Arc, and a re-thinking of 'everyday urbanism' in LA, captured in a volume of that title by Margaret Crawford, John Kaliski, and John Chase. We didn't know anything about Woodbury, but his focused intensity was infectious. He was up to something. He was building LA's next great design program, with a diversity of voices, hospitality to a wide range of student profiles, an investment in smart, talented, practicing faculty, and a core ethos of effectiveness in the public realm.
You know, he told us that night, my father was a forester. A ranger. We lived in the US forest and park system. We went east for a time when my father's experiences were needed at a policy level. Fire was huge for us, and water.
There was a lot in that comment. Norman was revealing themes that got played out time and time again over sixteen years of working together. He was planting seeds with us. Norman was always planting seeds. 
Wildfire and water, is there anything more quintessentially Californian, anything more basic to thinking about design of the west's built environment? Do you think your work could inform part of our curriculum here, he asked before the evening was out.
He was also telling us how much, as a designer and an educator, he valued work in the field, physically encountering and closely observing nature's forces, and learning to make smart design decisions in response to, and in anticipation of, their changing courses. Whether this was at the scale of the garden (he loved coming in to work in Mondays and rubbing his butt and back, and telling us how much of the weekend he had spent moving rocks and plants); the scale of a building site; a settlement, land-use planning, or regional infrastructures—he knew there was no substitute for direct experience as the most effective teaching tool. Fieldwork became central to how we taught, and continued to learn, at Woodbury.
He was also saying, and would say many times over the years, how upbringing and family experiences were a huge part of his own education. Without knowing Norman's family, I came to understand that raucous dinner conversations, outdoor exploration, and a love of debate, even confrontation, had been central to his first and most formative idea of education. He challenged us to create a comparably critical and exploratory learning environment at Woodbury. He urged his small core faculty in those years to honor both high standards as well as the particulars of student circumstances. He reminded us continually that each student was bringing to the studio, the classroom, the admissions process a set of lived experiences that we needed to discern, value, mine, and leverage.
In our focus area—life in drylands—student perspectives enriched and advanced the topic incessantly. In the early 2000s, 80%  of Woodbury's students were first-generation American, first-generation college-educated. Rather than traditional academic or professional preparation, many brought a depth of practical and cultural knowledge from Latin America and the Middle East, from grandparents' farms, military service, oral traditions, long immigration treks across multiple cultures and landscapes, butcher shops, fork lifts, lemon orchards, and border towns.
Our job was to survey a landscape of challenge and opportunity and create a place at the table for each perspective, each student as an effective collaborator. That was Norman at work in all of our classrooms. It was the alchemical ingredient at work in what became recognized, circa Woodbury School of Architecture 2007 accreditation cycle, as the Woodbury Miracle.
When on that night in the gallery Norman mentioned his father's capacity for policy, that too was a seed being planted. Preparing students for design leadership, in Norman's view, meant cultivating effective communication skills, awareness of larger public debates, and the ability to engage at a policy level. Design could make a singular project compassionate, sound, or compelling; but by articulating the rules that need to be changed to make good work replicable, scaleable, and affordable, design could be transformative. 
In Spring 2008, after 7 years of leading studios, seminars, and field work, we went to Norman and said this work requires a topical, not a disciplinary focus. We want to build a water-focussed, research-intensive, design-centered hub as regional resource. Design as a bridge between science and policy! became his mantra as we worked together to create the Arid Lands Institute at Woodbury University.
Between 2008 and 2015, Woodbury students came to ALI to gain experience outside traditional disciplinary boundaries: how could design thinking shape the communication of water and energy data?  The mapping of an argument? The  contours of a watershed-based plan? A public engagement strategy? Prioritization of public investment? New planning and design tools? Changes in policy? 
With ALI's evolving needs, we began to explore the possibility of transitioning to independence. Norman used a family analogy: he saw  ALI as a young adult preparing to leave the nest. He offered to build us "an apartment in the back yard" as he said; would we consider staying? 
We said that transitioning to independence was part of an important long-term goal—to make the applied research of ALI more broadly available for public benefit, a resource serving multiple universities, agencies, and sectors. Let's not think of it as moving out, or moving away, I told Norman. Let's think about it as transplanting a seedling—you planted a seed; we nurtured it at Woodbury; its time for it to stand on its own. Let's grow.
By early 2016, ALI moved into its new home at LA Cleantech Incubator, a home we look forward to sharing with doors wide open to students from Woodbury and many other programs. Over lunch in January, Norman reflected on his tenure as dean, his many hats, and two projects on the horizon he was looking forward to. One was building another house, across the street from his iconic and elemental home. The other was teaching at ALI.
On February 19th, Norman called to tell us of his pancreatic cancer and upcoming surgery. We talked, as we had many time over the years, of death and peace, drawing from our differing belief systems—his in Karma, mine in divine love. We had differed on many topics since 2000, and debated them frequently and heatedly; yet on the subjects that mattered most to us, our voices were quieter.
Eight weeks later, after complications from surgery, it was time to say goodbye. Norman's powerful heart stopped beating on Thursday, April 14th, 2016.
The wind kicked up in a big way that night. It must have pulsed through the parallel concrete planes that form the narrow profile of his tall, lean home on the crest of a hill. It must have gushed through the oversized openings that he designed to let sun and rain, wind and leaves, sound and dog fur swirl through. It must have made the lantern-like presence of the building flicker with shadows from swaying trees. It must have made the timeless building feel both like a ruin or a relic, and at the same time a vessel from the future.
The same wind bent the olive trees at my house. The leaves cast frantic shadows on my windows, waking me up and beckoning me outside. All over California, that wind was lifting soil, moving moisture, clearing paths, starting fires. And just as certainly, it was spreading seeds. Lots of them. Thank you, Norman, I thought. Let's grow.