Final Report: Celebrating Great Streets: Connect the Dots | Van Nuys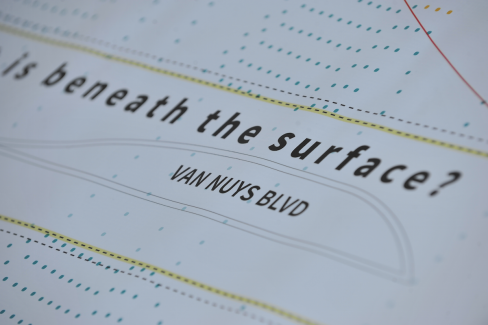 Community Workshops Bring People, Science, and Design Together to Shape Great Streetscapes that Conserve Water
On Saturday February 20th, more than 200 people convened for free outdoor design workshops, bicycle clinics, and a street fair celebrating a vibrant future on Van Nuys Boulevard.  As part of Mayor Garcetti's Great Streets Initiative, Connect the Dots | Van Nuys brought together water-conservation science, design visioning, and the people of Council District 6, represented by Councilmember Nury Martinez.  For a full report of the program, click
here
.
Children, families, high school students and their teachers, business owners, environmentalists, bike advocates, public agencies, artists, musicians, and elected representatives convened for a day of hands-on creativity.  Workshop leaders asked participants, What is the future of your boulevard? Can bikes, cars, strollers, skateboards, and rapid transit all share it?  And can it be designed to help solve LA's water supply needs?
Led by the Arid Lands Institute in partnership with Pacoima Beautiful, LA County Bicycle Coalition, Council District 6 and the Mayor's Great Streets office, workshops challenged residents to imagine the Boulevard performing at its fullest potential: serving as engaging 24/7 public space; a healthy, active transit corridor in a lively economic zone; and a strategic groundwater-recharge asset. Van Nuys Boulevard between Sylvan and Erwin was partially closed for the day's activities.
Councilwoman Nury Martinez and Van Nuys Neighborhood Councilmember Quirino de la Cuesta kicked off the event discussing the importance of transportation, pedestrian safety, and environmental justice for the future of Van Nuys. Led by Connect the Dots Creative Director Aja Bulla Richards and her design team Tamarind Rossetti, Anne Trumble, and Stephanie Newcomb, workshop participants gathered around large-scale maps and drawings to reimagine the Boulevard. Van Nuys High School students, many of them students of environmental science instructor Ms. Lucy Garcia, helped deliver the workshops and test a new teaching tool, the Hazel Table, with Stephanie Newcomb. They then spread into the streets to realize their vision. Armed with chalk, paint, and dozens of native trees and plants loaned by Valley Crest and Bureau of Street Services, they transformed the Boulevard temporarily into a bike- and pedestrian-friendly zone, lined by shade trees, drought-tolerant shrubs and grasses, and stormwater absorption zones. 
LA County Bicycle Coalition led fifty cyclists on a Tour de Van Nuys "feeder ride," visiting sites of historical interest before arriving at the Civic Center. Local businesses RetroXpress and Walk-n-Rollers introduced young riders to bike safety and maintenance. Wearing free helmets provided by the Van Nuys Neighborhood Council, riders paraded down the temporarily transformed street.  Representatives from LA DWP, Metro, DOT, Friends of the LA River, WeTap, TreePeople, WaterLA, and Greywater Corps offered practical resources for water and energy conservation, from rain barrels and greywater systems to lawn removal and river restoration.
As dusk fell, the Boulevard and the Marvin Braude Plaza were transformed by lighting designers of Production Resource Group. Empty storefronts came alive with projected images by public artist Tamarind Rossetti. Her softly glowing video installation, "The Beginning of Water," provided a visual meditation on California's precious water supply: where  it comes from, the sensuality of our semi-arid landscape, and the central role water plays in our society's most basic rituals.
On the plaza, Tai Chi instructor Alan Chang offered a lesson in the healing flow of energy and water through our own bodies. Guests were treated to acoustic guitar and vocals in English and Spanish, and a special appearance by members of the Fernandeño Tataviam Band of Mission Indians. Three generations of performers shared a selection of Bird Songs honoring the creator, creation, and creatures of earth, air and water. Slides prepared by the Arid Lands Institute served as backdrop and provided a glimpse of water-harvesting architecture of the future.  
What does the future of Van Nuys Boulevard look like? According to CtD participants, its a street of high-precision stormwater capture, culturally rich public space, a cooler urban environment, safe bikeways, and pedestrian-friendly sidewalks.  Enjoy a gallery of images
here
.
Los Angeles is entering an era of major public investment in its Great Streets, shifting from a carbon-intensive, auto-centric 20th-century streetscape into a diversified, low-carbon public domain for the 21st century and beyond. Connect the Dots supports the City in reaching its sustainability goals by integrating stormwater capture with transit alternatives for a low-carbon future, robust local economies, and a resilient local water supply. 
***
Contact:
Aja Bulla-Richards, CtD Creative Director
Connect The Dots is a program of Divining LA | Arid Lands Institute. Led by Aja Bulla-Richards and collaborators from the Arid Lands Institute, Pacoima Beautiful, and LA County Bicycle Coalition, Connect the Dots | Van Nuys would have not been possible without the generous support of collaborators across the city and the region.
Connect the Dots | Van Nuys
THANKS
The people of Van Nuys 
Especially the students and teachers of:
Van Nuys High School, Sylvan Elementary, Children's Community School, and
Sepulveda MS Room 38 (North Hills).
Special thanks to Van Nuys HS Environmental Science teacher Lucy Garcia
And local Business Owners, especially:
Rick Stanoff, Country General Store
Omar Guitterez, Los Tres Hermanos
Van Nuys Neighborhood Council, 
especially Quirino de la Cuesta
Council District 6:
Councilmember Nury Martinez, 
Guillermo Martinez, Field Deputy
Arcelia Arce, Policy Director
The Mayor's Great Streets Challenge,
Especially:
Lilly O'Brien, Great Streets Program Coordinator
Along with Nat Gale, Carter Rubin, Naomi Iwasaki
And Mayor Garcetti
Our Connect the Dots | Van Nuys Partners:
Pacoima Beautiful: 
Max Podemski, Planning Director
LA County Bicycle Coalition: 
Hyeran Lee, Zachary Rynew
Arid Lands Institute 
Hadley Arnold, Executive Director
Peter Arnold, Research Director
Aja Bulla Richards, Creative Director, Connect the Dots
Stephanie Newcomb, MSArch candidate
Vedi Vartani, B.Arch.
Tamarind Rossetti, artist: "The Beginning of Water"
Anne Trumble, Emerging Terrain
Woodbury University
Mauro Diaz
Our Collaborators:
FoLAR/River Rover
WeTap 
TreePeople 
Water LA
Greywater Corps 
Fernandeño Tataviam Band of Mission Indians
Tern Bicycles
Ciclavia
Walk n' Rollers 
RetroXpress Bicycles
Mr. Green Juice
IOBY.org
Musicians Institute:
Ronny Schiff
Andie Sandoval
Abraham Urias
Mercy Collazo
Metro: Metropolitan Transit Authority of Los Angeles
Especially Karen Swift, Community Relations, East Valley
LA Department of Water and Power
LA Department of Transportation
LA Department of Public Works, Bureau of Street Services
Our Design Community Sponsors:
PRODUCTION RESOURCE GROUP, especially Phil Galler and Brian Edwards
AAA Flag and Banner
Valley Crest Tree Company
Full Scale Effects
Atema Architecture
HartleyStudio
Perkins+Will
Jane Carroll Design
Todd Erlandson, AIA
John Kaliski Architects
Will Wright, Hon. AIA
Hadrian Predock Architecture
Alexander Robinson/Landscape Morphologies LAB
Rios Clementi Hale Studios
Clark Stevens, New West Land Company
Margi Reeve and Cameron McNall
Julia Bloomfield
Our Donors:
Steve Midgley
Vandi
Leslie Clark
Steve and Lori Bulla
Camas Hotel
Anonymous Fan
David S.
Molly S.
Ali Solorzano & Michael Richards
Wes Carter and Erin Root
Luisa d.
Kathy Leary-Wilde
Bernard F.
The Little One Foundation
Gene
Anonymous
Hedi + Jerri Arnold
Carey Okrand
Kerry Jensen & David Neelin
catherine h.
Greg Marsolais
Susan Hill
Anonymous
Mary P.
Anonymous
Anonymous
Engel Family
Jennifer T.
Christine Tulberg Popok
In Memory Of Roberta Soprano
Bobbi (Tulberg)
Karen Hesli
SD Tulbergs
Eric Bruins
Scout
Kurt Marsh
Joy Gutierrez
Nick A
Mika
Marsha @ Geosystems
Colleen Quinn
Paul T.
A Smith
James E.
In honor of Anne Trumble
Nicholas Blixt
Anonymous
Steve Jones
Anonymous
Jenny Jones
Molly Rysman
Christina S.
Annie Baker
Bob & Carolyn Tulberg
Patagonia
Diana Rossetti
Jeremy Hunter
KMH
Stephen D.
Tae Abate
Dennis and Meredy R.
Jeff W.
Rachel Bulla
Edward N.
Anonymous
Josie A
Anne p.
Laurie Alper
Vic Liptak
Sharon S.
Rafe Greenlee
Anonymous
Greg A.
Anonymous
Margo Linden Katz
Gary Bulla Flyfishing Adventures
Audrey Vaughn