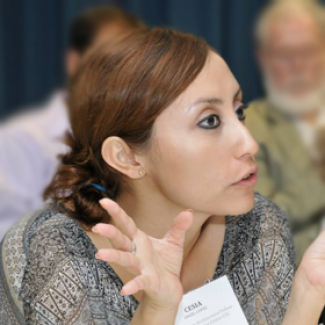 ALI MSArch graduate Cesia Lopez-Angel has been chosen as an Enterprise Rose Architectural Fellow for the class of 2013-15. Selection committee members were struck by Cesia's poise, talent, and two features of her graduate studies with ALI: her integration of public utilities into the design of vibrant public space; and her experience working directly with community members.  
Cesia's graduate work focused on water as a design material, with a strong interest in advanced drawing techniques.  For her thesis, she conducted studies of water infrastructure and civic space in Rome and Istanbul before proposing a system of visible, localized water systems reanimating prominent public spaces  in LA, including Dodger Stadium, Pershing Square, and the LA Aqueduct Cascades.   Cesia's thesis research was advised by Dr. Paulette Singley in Rome and architect Jennifer Bonner in Los Angeles.
As a Rose Fellow with the Little Tokyo Service Center and Neighborhood Based CDC Coalition in Los Angeles, Cesia tackles the dual missions of creating affordable housing and a pedestrian-friendly, transit-accessible central city.