Grad Cited by LA County and State Assembly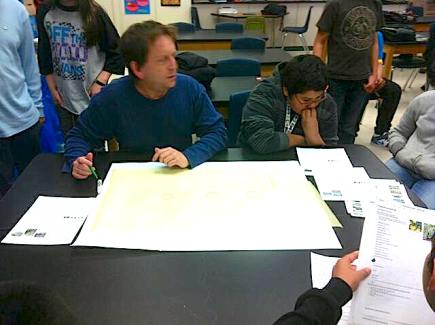 Barry Talley returned to graduate study after 18 years of high-end professional design practice, seeking "a more meaningful connection to my work and my community."  As part of his ALI MSArch studies, he undertook a service-learning practicum that changed the course of his practice. 
Working in close collaboration with a local middle-school, 
community forestry experts at TreePeople,
 and a dynamic 7th-grade science teacher, Barry proposed and implemented a new water sequence within the science curriculum, introducing water-energy theory into classrooms, guiding students in water-sensitive design principles, and realizing a collaborative design-build demonstration garden on campus.  Where stormwater used to pool and run off onto asphalt playgrounds, students, parents, teachers and volunteers worked together to replace concrete and barren dirt with improved soil and drought-tolerant shrubs, grasses, trees, and wildflowers, creating an outdoor learning environment; an inviting habitat for insects and birds; and ample aquifer recharge.  
After successfully piloting the program at Luther Burbank Middle School, Barry has worked since graduation to implement ongoing collaborations with LAUSD middle schools across the county. 
Since his first demonstration project at LBMS in 2011, Barry has led 24 undergraduates to undertake comparable initiatives, working creatively alongside teachers and middle-schoolers to design and build a more permeable Los Angeles.  
Barry's public interest work was recently recognized with a Green Leadership Award by the Los Angeles County Board of Supervisors and a Commendation and Certificate of Recognition from the California State Assembly.