2015 Latrobe Prize to ALI's Drylands Resilience Initiative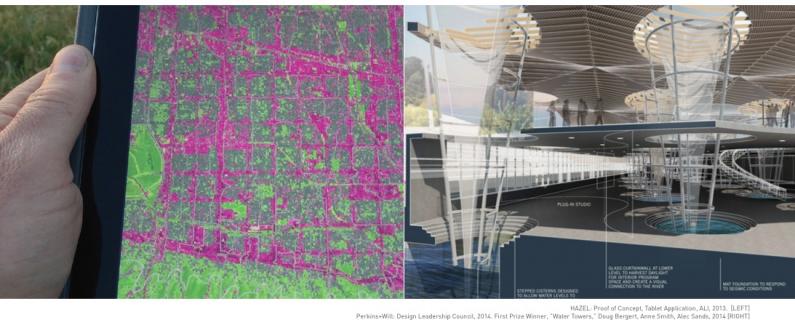 AIA College of Fellows Awards 2015 Latrobe Prize to Woodbury University Arid Lands Institute for 'Drylands Resilience Initiative'
$100,000 Award Will Fund Development and Testing of Proprietary Design Tool that Supports Water-Challenged Communities to Capture Stormwater Resources
BURBANK, Calif. (March 31, 2015) – The American Institute of Architects (AIA) College of Fellows has awarded the 2015 Latrobe Prize to a team led by Woodbury University's Arid Lands Institute for its "Drylands Resilience Initiative: Digital Tools for Sustainable Urban Design in Arid and Semi-Arid Urban Centers," the university announced today.
Arid Lands Institute co-directors Peter Arnold and Hadley Arnold lead a team that includes Rowan Roderick-Jones, CSci, ENV SP, Associate, Water Systems Group, ARUP, San Francisco; Deborah Weintraub, AIA, LEED AP, Chief Deputy City Engineer, Bureau of Engineering, Department of Public Works, City of Los Angeles; Leigh Christy, AIA, LEED AP BD+C, Associate Principal, Perkins+Will, Los Angeles; and John Haymaker, AIA, Ph.D., LEED AP, Director of Research, Perkins+Will, Atlanta.
The Latrobe Prize, named for architect of the US Capitol Benjamin Henry Latrobe, is awarded biennially by the AIA College of Fellows for a two-year program of research leading to significant advances in the architecture profession.  The $100,000 award will enable the Arid Lands Institute (ALI) and its cross-disciplinary partners to further develop and test a proprietary digital design tool, known as "Hazel," that eventually will enable arid communities anywhere to design and build the infrastructure needed to capture, retain and distribute stormwater runoff.  The technology builds on previous public- and private sector-funded research to maximize low-carbon localized water supply; shape water-smart urban planning, zoning and building policy; identify key sites for public and private investment; develop pilot projects that are scalable and replicable; build water-conversant design professions and support water-sensitive design education.
"The Drylands Resilience Initiative will test a tool which should enable engineers and architects to make more thoughtful decisions on the integration of stormwater capture and reuse in their projects. This aligns perfectly with the Bureau of Engineering's goal of making Los Angeles the most livable city in the world through the use of sustainable design practices," said Weintraub, AIA, City of Los Angeles Chief Deputy City Engineer.
"Latrobe Prize funding comes at a crucial stage in the tool's development, as we continue to build it out and test it.  Ultimately, the Drylands Resilience Initiative will result in a fully automated tool that supports communities and design teams developing distributed infrastructures, absorptive landscapes, innovative building systems and water-smart public policy for drylands urbanism," said Peter Arnold, Principal Investigator and Director of Research for the Arid Lands Institute, affiliated with Woodbury University's School of Architecture. "The tools and systems developed and tested in Los Angeles will have potential applications in drylands globally."
The Drylands Resilience Initiative was selected by a jury of AIA Fellows following a presentation of research programs by finalists. 
"The critical global issue of securing low-carbon and sustainable urban water supplies within arid urban centers affects billions of people around the world," said David Cronrath, AIA, Dean of the School of Architecture, Planning and Preservation at the University of Maryland and chair of the 2015 Latrobe Award Jury. "We were impressed with the overall research plan, the working partnerships that were part of the proposal, and the social justice that was at the center of the research.  The Arid Lands Institute and its Drylands Resilience Initiative model a new way for design professions to partner with scientific and public policy communities to catalyze public imagination and action in the face of growing climate challenges." 
"We are extremely proud of the important work being done by the Arid Lands Institute and its partners and are grateful for the recognition and financial support provided by the AIA College of Fellows through the Latrobe Prize," said Norman Millar, AIA, Dean of the School of Architecture at Woodbury. "It's a tool that takes complex issues and puts smart decision-making frameworks into the hands of communities and designers.  It's the kind of tool we need in the design profession and schools to be effective change agents in the public realm."
Founded in 1952, the College of Fellows is comprised of AIA members who are elected to Fellowship by a jury of their peers. Elevation to Fellowship recognizes individual achievements of the architect but also elevates before the public and the profession those architects who have made significant contributions to architecture and to society.
In addition to Conrath, members of the 2015 Latrobe Prize jury included: Stephen T. Ayers, FAIA, Architect of the Capitol; Angela Brooks, FAIA, Brooks + Scarpa; Albert W. Rubeling, FAIA, Chancellor, AIA College of Fellows; Roger Schluntz, FAIA, University of New Mexico; Katherine Schwennsen, FAIA, Clemson University; John R. Sorrenti, FAIA, Vice Chancellor, AIA College of Fellows; and Lawrence Speck, FAIA, University of Texas.
About The American Institute of Architects
Founded in 1857, members of the American Institute of Architects consistently work to create more valuable, healthy, secure and sustainable buildings, neighborhoods and communities. Through nearly 300 state and local chapters, the AIA advocates for public policies that promote economic vitality and public well-being. Members adhere to a code of ethics and conduct to ensure the highest professional standards. The AIA provides members with tools and resources to assist them in their careers and business as well as engaging civic and government leaders and the public to find solutions to pressing issues facing our communities, institutions, nation and world. Visit
www.aia.org
.
About Woodbury University
Founded in 1884, Woodbury University is one of the oldest institutions of higher education in Southern California. Woodbury offers bachelor's degrees from the School of Architecture, School of Business, School of Media, Culture & Design, and College of Transdisciplinarity, along with a Master of Arts (MA) in Media for Social Justice, M
aster of Architecture (MArch), Master of Interior Architecture (MIA), Master of Science in Architecture (MSArch), and Master of Leadership.  The San Diego campus offers Bachelor of Architecture and Master of Architecture degrees, as well as an MSArch degree with concentrations in Real Estate Development and Landscape + Urbanism.  Woodbury ranks 15th among the nation's "25 Colleges That Add the Most Value," according to Money Magazine.  Visit www.woodbury.edu for more information.