Smithsonian.com: A seven-part series on Drylands Design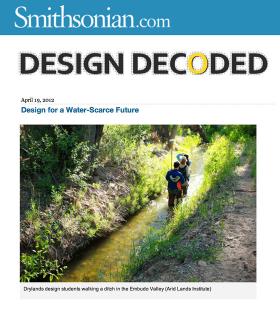 Journalist Sarah Rich features ALI as she explores water scarcity and design of the built environment in Design Decoded @ Smithsonian.com. Her seven-part series, Design for a Water Scarce Future, ranged from California agriculture to urban stormwater, from remote imaging of diminished groundwater supply to the fountains of Rome.
Part 1:  Design for a Water-Scarce Future, is a story about a group of designers in Los Angeles in the year 2012, who are developing design strategies for the year 2020, or 2050, or beyond.
Part 2: Hydrologic Commonwealths: Redrawing State Lines, examines the implications of our political geography as "a federalized landscape rather than a localized one; concentrations of power rather than distribution of opportunity."
Part 3: Futureproofing California Farmland, asks design practitioners to propose applied strategies for reformatting farmland and adjusting current agricultural systems.
Part 4: Groundwater, Gravity and Graphic Design examines how information design and data visualization form a bridge to transform academic research into an accessible visual language.
Part 5: Making Water Use Visible uses the context of ancient Rome to explore how the performative nature of water infrastructure was made visual.
Part 6: Rebuilding Rainwater Collection in India, examines lessons of deindustrializing water systems in the developed world to how you bring potable water, sanitation and hygeine, and careful water management to the developing world.
and
Part 7: Designing Democracy Around a Ditch, highlights acequias (a traditional gravity-fed irrigation system) as a robust example of design resilience in the face of climate change.