Holcim Award for Divining LA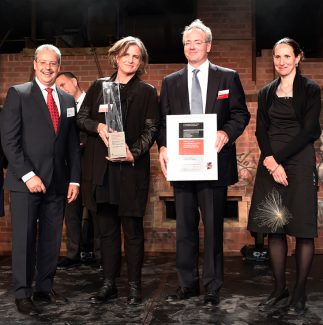 "A digital device with an ethical agenda" – Holcim Awards Jury
With gratitude to the Holcim Foundation and pride in our students, partners, and collaborators, ALI co-directors accepted a 2014 Holcim Award for Divining LA on Thursday, September 18th in Toronto.  The acknowledgement recognizes work led by ALI's Research Director, Peter Arnold, to create a digital tool for urban design in water-stressed environments.  
Holcim Awards are presented every three years to teams forging new paths in sustainable construction.  The Holcim Foundation, philanthropic arm of global concrete giant Holcim Corporation, seats juries on five continents to evaluate projects based on technical innovation, social impact, environmental metrics, economic feasibility, and quality place-making. This year's competition received 6,100 submissions.  The North American jury was chaired by architect Toshiko Mori and hosted by Mark Jarzombek at MIT.  Here's what the North American jury had to say about Divining LA:
"As unusual as this entry might seem for a competition dedicated to construction, it is nonetheless commended as a construction technology by the jury for strategically reassessing storm water runoff in urban contexts. The jury specifically appreciates the proposal's value as a design tool – a digital device with an ethical agenda. Here, technology is used at its best, as a means to compile valuable data on the constitution of territories, to foreground and prioritize important information, and to raise awareness of site specific conditions for analysis and design. The proposal offers the necessary grounds to address water scarcity as both a technical and social matter of concern for all."
For more information, see the Holcim Awards website.