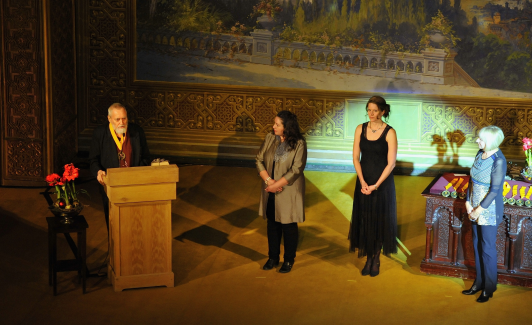 ALI collaborator Estevan Arellano was recognized by the New Mexico Community Foundation (NMCF) with a Luminaria award on December 5th, 2013.  The award is given to "outstanding individuals from throughout the state who make a profound difference in their communities." Luminarias "motivate, inspire and support the dreams of others, promote diversity and equity, and build community strength through their leadership and vision."  We could not agree more. 
A life-long resident of Embudo, Estevan is an acequia farmer, community organizer, and cultural historian.  Along with his wife Elena, Estevan has welcomed approximately 150 Woodbury students (and many others) to the Embudo Valley, sharing his home, his orchards, and his community as a teaching landscape.  Seminars held beneath his towering apricot tree have evolved over the years into the annual Celebrando las Acequias, led by Estevan and co-hosted by ALI.  Celebrando brings together farmers, students, artists, historians, planners, scientists, designers, and civic leaders to explore the history and future of traditional irrigation societies in the face of a changing climate.
Estevan translated
Ancient Agriculture: Roots and Applications of Sustainable Farming
(Ancient City Press, 2006), the first English edition of
Obra de Agricultura
by Gabriel Alonso de Herrera, a practical and philosophical agriculture treatise written in Granada in 1513. He also co-authored, with Dr. Enrique Lamarid,
La Acequia de Juan del Oso: John the Bear and the Water of Life
(UNM Press, 2008), a bilingual children's book with royalties going to the New Mexico Acequia Association. "The Wisdom of Land, The Knowledge of Water" (UNM Press; forthcoming) explores community irrigation systems. 
In 2011, Estevan was recognized by the New Mexico Acequia Association for his literary contributions to the 'movimiento en defensa del agua'. 
As ALI's community coordinator on the EPA Watershed-based Planning Grant, Embudo Agua Limpia, Estevan is responsible for community outreach and mobilization. Estevan has served on the board of the New Mexico Acequia Association for six years; as president of the Embudo Valley Acequia Association; mayordomo of the Acequia Junta y Ciénega for five years; and as president of the commission of the Acequia Junta y Ciénega. Trained as a journalist, he has served most of his adult life as a community leader, organizer, and advocate.
Photo by Seth Roffman, Editor, Green Fire Times.