Where is it? Let's (Re)Use It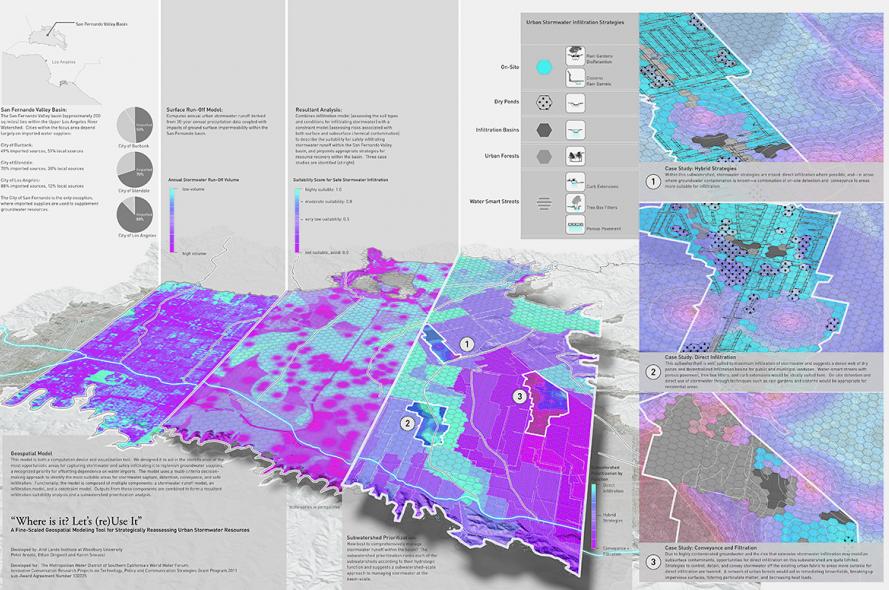 ALI's high-resolution geospatial model maps stormwater as potential groundwater augmentation supply in the San Fernando Valley.  The model shows precisely—street by street, lot by lot—where 92,000 acre feet of water can be most advantageously captured, stored, treated, and/or infiltrated to offset dependence on imports. 
ALI's study, "Where Is it? Let's ReUse It!," was designed as a bold response to William Mulholland's famous line, "There it is. Take it!," as he turned on the spigot of Sierra snowmelt for LA's use in 1913.  The stormwater model circulated widely in 2013: it was presented to Metropolitan Water District and Bureau of Reclamation representatives; City of Los Angeles Bureau of Engineering, Planning Department, Sanitation, LA DWP, Los Angeles River Revitalization Office, City of LA/Mayor's Office of Sustainability, LA County Flood Control, Burbank Water and Power, and City of Burbank Mayor's Office.  Presentations were also made to TreePeople; the LA Regional Collaborative for Climate Change (LARC); the Water Resources Group at UCLA's Institute of the Environment and Sustainability; UCLA Environmental Science majors; the Urban Design Committee, American Institute of Architects, Los Angeles Chapter; representatives of Climate Resolve; Council for Watershed Health; and WaterLA; and visiting colleagues from the Arava Institute in Israel. 
By Fall 2013, selections of the model and final report were published and promoted extensively through the Aqueduct Centenary issue of Boom: A Journal of California  (UC Press, Fall 2013); Brown and Caldwell's BC Water News; KCRW's Which Way LA?; and KCET's Artbound. For summary results published in the Fall 2013 issue of Boom: A Journal of California, see below.  
"Where Is it? Let's ReUse It!" was funded by the Southern California World Water Forum, a program administered by the Metropolitan Water District of Southern California.