Coopelluvia: Facilitating a New Urban Water Commons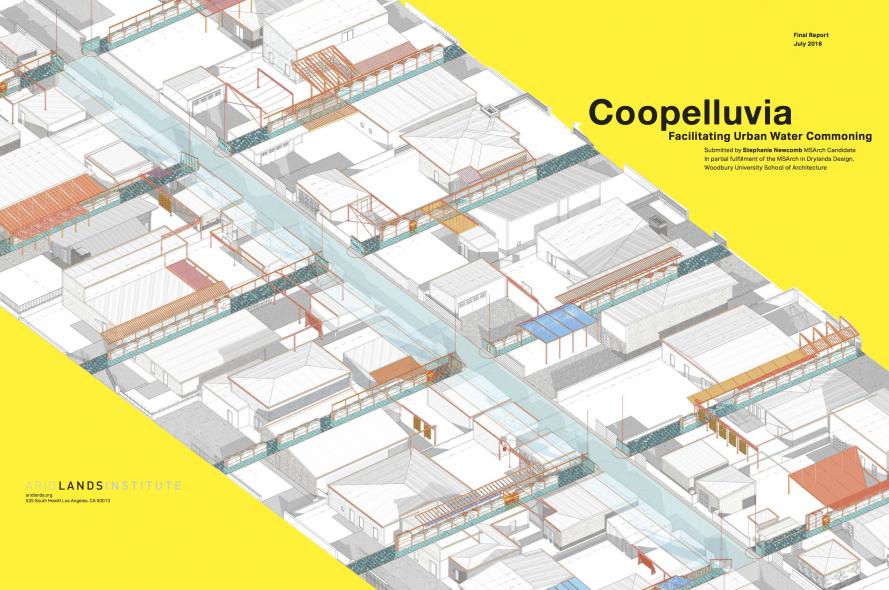 Stormwater will form an important part of LA's future water portfolio. Current city and county stormwater capture plans focus on stormwater reclamation from publicly-owned land.  However, hundreds of square miles of private property that will yeild tens of thousands of acre-feet of runoff remain under-addressed by those plans.
This investigation focuses on possibilities of water collectivization in between private properties, particularly in areas where infiltration is not adviseable and where capture, storage and re-use above grade is recommended.
Water commoning is an opportunity for a new method of urban water stewardship: one that empowers individuals and neighborhoods to engage directly with building and maintaining local water supplies.  A water commons is the shared collection, distribution and management of water as a resource. Evaluating the San Fernando Valley as a case study, specifically within low-income Latino neighborhoods, the investigation focuses on a process of commoning between residents using rainwater harvesting as a platform for untapped economic, social, and cultural potentials. The goal is to produce new methods and models for a hyper-local water supply, inhabiting the thresholds between private and public properties to produce multi-benefit hydro-social space.
This research was conducted by Stephanie Newcomb, MSArch in Drylands Design, Woodbury University School of Architecture, 2016.  Use Stephanie's pamphlet to get started on how-to-build-a-water-commons.  For more depth on the science, policy, and cultural thinking behind the project, read her full report, below.