Note Change in 3/4 Program, Venue: Drought & Beauty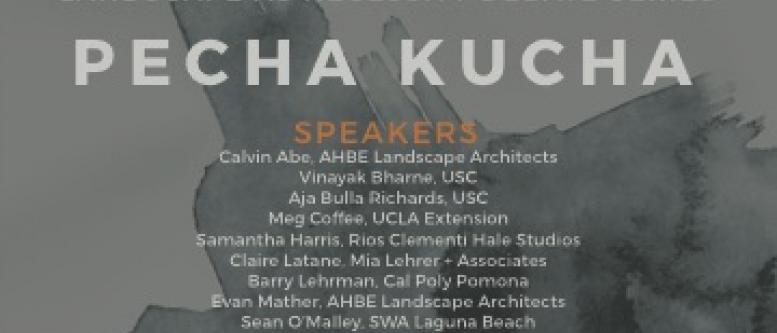 The Landscape as Necessity series expands the conversation around urban issues critical to Los Angeles and familiar to designers and thinkers from all over the world. Hosted by the local landscape architecture community, guests are invited to share ideas, engage in dialog, and speculate on future possibilities, questioning where we are now and where are going.
The 2015-2016 theme is Drought+Beauty.  Landscape architects from Los Angeles are paired with practitioners from other water-stressed environments to debate strategies, tactics, and efficacy of design in shaping space and policy in extreme drought.  All debates are 6-9 pm; 45 minute presentations per speaker and moderated debate.
What do delight and pleasure mean in dry times?  How are landscape architects and educators working within the constraints of drought, while also anticipating increased intensity of sporadic rain events?  How is design serving communities and shaping policy while crafting a new sensibility for design in drylands? 
All events are 6 pm to 9 pm, and free and open to the public. The first two events will be at Helms Bakery in Culver City; the third and fourth events will be held at LA Cleantech Incubator in downtown Los Angeles.
Debate 1: Friday, October 9, 2015, 6 pm
Helms Bakery Design Center, 8745 Washington Boulevard, Culver City, CA 80232
Kate Cullity, Taylor Cullity Lethlean, Melbourne
Mia Lehrer, Mia Lehrer + Associates, Los Angeles
Kelly Shannon, USC, Chair, Landscape Architecture + Urbanism Program: moderator
Debate 2: Friday, November 20, 2015, 6 pm
Helms Bakery Design Center, 8745 Washington Boulevard, Culver City, CA 80232
James Burnett, OJB, Solano Beach
Mark Rios, Rios Clementi Hale Studios, Los Angeles
Stefanie Landregan, UCLA, Chair, Extension Program in Landscape Architecture: moderator
Debate 3: Friday, February 5, 2016 , 6 pm
LA Cleantech Incubator, 525 South Hewitt, Downtown Los Angeles, CA 90013
Els Verbakel + Elie Derman, Derman Verbakel Architecture, Tel Aviv
Allen Compton, S.A.L.T., Los Angeles
Rennie Tang, Cal Poly Pomona, Landscape Architecture Program: moderator
Change of Program: Pecha Kucha Night: Friday, March 4, 2016, 6 pm
Venue: Mia Lehrer Associates, 185 South Myers Street, LA CA 90033
The series is organized and sponsored by:
USC, Graduate Landscape Architecture + Urbanism Program
UCLA, Extension Program in Landscape Architecture
Cal Poly Pomona, Landscape Architecture Program
Arid Lands Institute
LALA, Landscape Architects Los Angeles
Mia Lehrer + Associates
March 4, 2016
|
06:00pm - 09:00pm