Join us! February 20th: Connect the Dots | Van Nuys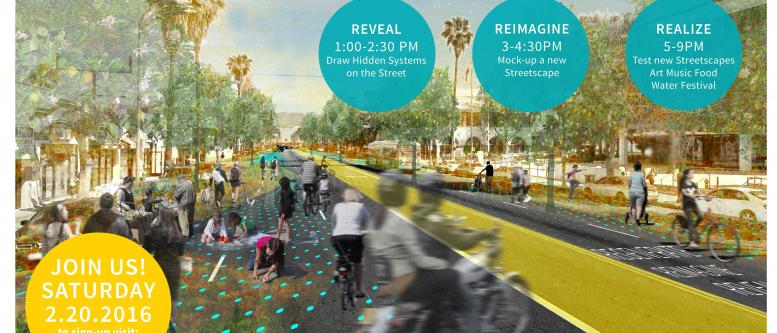 Connect the Dots | Van Nuys invites you to 
Reveal | Reimagine | Realize
the future of Van Nuys Boulevard
We believe Great Streets work for businesses, residents, rapid transit, pedestrians, businesses.... plus stormwater, bikes and KIDS!
Bring your bikes and your families, rain or shine!
Saturday February 20th, 2016
1:00 pm Kick-Off with Councilmember Nury Martinez CD6
Free Design Workshops at 1, 3 and 5 pm
@
Art, Science, Design, Bikes, Food, Music, Fun, Free
Register for hands-on design workshops here.
Tour de Van Nuys: 12:30 pm
Start your day with a family-friendly bike ride (helmets required):
Join LA County Bicycle Coaliton for a free 5-mile Feeder-Ride.
Meet at the Van Nuys Orange Line Metro Station at 12:30 pm.
For the Tour de Van Nuys, sign up here.
Bike Rodeo: 2-4 pm
LA County Bicycle Coalition + Walk'N Roller Kids invite you to a Bike Rodeo at Van Nuys Blvd & Erwin St. 
- kids bicycle courses: 2-4PM
- learn how to ride safely on the street
- Bring your bike to Connect the Dots!  (limited rental fleets available)
- You get a free helmet!! (First come, first serve)
- Bike decoration available on the site.
Free Block Party + Water Festival 6 pm to 9 pm
Join Connect the Dots, Tamarind Rossetti Public Art, Los Tres Hermanos, Mr. Green Juice, Happy Dogs, Country General Store, Tern Bicycles, Fernandeño Tataviam Band of Mission Indians, Greywater Corps, TreePeople, WaterLA, CD6, Walk-n-Rollers, WeTap, Retro Xpress Bikes, Metro, DWP, LA DOT, Assemblymember Adrin Nazarian, Ciclavia, Friends of the LA River/RiverRover for a celebration of a reimagined boulevard.
Food, Music, Art, Tai Chi.......
The Marvin Braude SFV Constituent Service Center in the city of Van Nuys is served by Metro Local lines 154/156, 164, 233, 237, Metro Rapid 761 and nearby Metro Orange Line,
as well as DASH routes Van Nuys/Studio City and Panorama City/Van Nuys. 
Public parking is available on Erwin, Sylvan, and Friar streets, one block west of Van Nuys Boulevard. Or consider parking for free at Metro's Sepulveda Station and taking Metro Orange Line one stop to Van Nuys.
Sepulveda Station is located at
15430 W. Erwin St. in Van Nuys
.
Connect the Dots | Van Nuys invites citizens, cyclists, and designers to envision Van Nuys Boulevard as a climate-resilient Great Street, one that embraces multimodal transit, working public space, and optimized stormwater capture as integral to LA's future.  Register here.
Connect the Dots
 uses hydrologic data, public design workshops, and citizen cyclist-scientists in distinctive ways to help shape our city's transit, public space, and water future. Organized around a series of free public design workshops and pop-up bicycle clinics at the 
Marvin Braude SFV Constituent Services Center
, 
Connect the Dots reimagines LA's Great Streets performing at their fullest potential: serving as engaging public spaces; healthy, active transit corridors in lively economic zones; and strategic groundwater assets.
Connect the Dots | Van Nuys is honored to be part of the Mayor Garcetti's Great Streets Challenge.  Connect the Dots is led by the Arid Lands Institute in partnership with Pacoima Beautiful, and LA County Bicycle Coalition with support from Councilmember Nury Martinez, representing Council District 6.  We are grateful for the generous in-kind support of Production Resource Group and LA County Metropolitan Transit Authority.
Connect the Dots
is a program of Divining LA | Arid Lands Institute.
For more information about participation, volunteer and sponsorship opportunities, contact:
Aja Bulla-Richards, CtD Creative Director
February 20, 2016
|
12:00am