Connect the Dots | Pacoima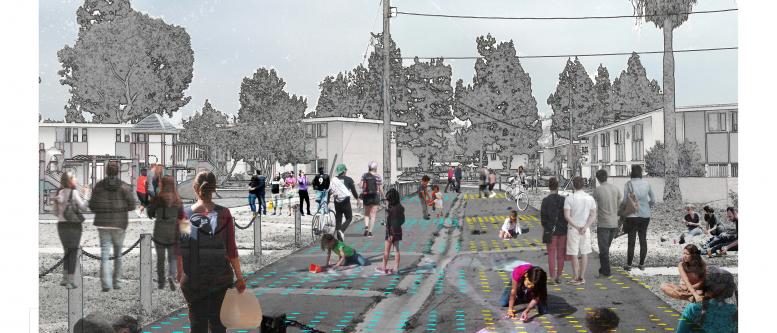 Connect the Dots | Pacoima is a public design and environmental arts workshop bringing together citizens, students, and designers to envision Pacoima's culural and environmental future.  Students from Pacoima Beautiful's Youth Environmentalists Summer Institute, families and neighbors of San Fernando Gardens Housing, and students, alumni, and faculty of Woodbury University's Arid Lands Institute invite you to join us for a half-day outdoor workshop embracing walkability, public space, and optimized stormwater capture and re-use. 
Connect the Dots uses art and design to bring complex science to the surface of our city's streets to shape sound policy and inspired public space for a water-smart future.
Connect the Dots | Pacoima, a program of ALI's Divining LA, is led by Aja Bulla Richards, in partial fulfillment of her Master's of Science in Architecture, Arid Lands Institute, Woodbury University.  Aja is the 2014-2015 AC Martin Scholar in Drylands Design.
Come celebrate the future with us:
Sunday, August 2nd, 1 pm to 6 pm
Bring your own hats, sunscreen, water, and imagination.  
Chalk, paint, tools, data, shade, and food trucks will be provided.